My Wife Kim and I will be taking a trip to Point Pelee near Leamington, Ontario soon for the Festival of Birds. For the birds, it's migration time and there is no better time of the year to see birds that you would not normally see in your backyard, like the Magnolia Warbler – one of my personal favorites.
Now my wife is the true "birder" in the family but I must admit I enjoy tagging along on her adventures, especially since many of the best "birding" locations are found on various points and peninsulas of the Great Lakes. These places are almost always home to a lighthouse or two and usually have a one if not many historical shipwrecks in their surrounding waters. Point Pelee is no exception.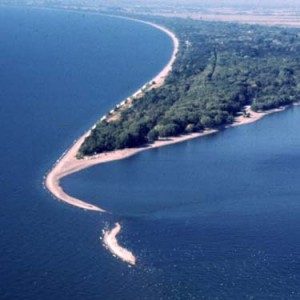 The Point is located on the northern shore of Lake Erie and is considered, along with Pelee Island, as the southernmost point of Canada. Parks Canada describes point as "a lush Carolinian forest oasis at the southern tip of Canada, Point Pelee National Park resounds with migrating song birds in the spring, hums with cicadas in the summer, flutters with Monarch butterflies in the fall and is a peaceful place of reflection in the winter."
So how does this trip tie into the book Sky Pilot of the Great Lakes?  Well, during my research of the Rev. William H. Law I found many stories he wrote that didn't necessarily fit into the story I was trying to tell in the book but did resonate with me as a descendant. In one small part of one story, Rev. Law was fishing in the Les Cheneaux Islands and spent a lot of time observing the various gulls that he would find accompanying him on his trips.
"I had noticed that whenever I threw them fish, instead of chewing at it or endeavoring to tear is to pieces, they would throw the fish up in the air two feet or more with a particular twitch so that the fish would fall head first and they would catch it with wide-open mouth and take it down head first. This wise course of procedure was most interesting to me to watch. In doing so they avoided all risks of being choked to death by the fish hanging up in its throat by the sharp fins and scales." – W. H. Law, 1919
Law was a student of nature among his other passions. There are many stories included the mailings he would send to all the lighthouses and life-saving stations throughout the United States about observations on the lives of birds and other animals he encountered in an around his home in Hessel, Michigan.
These stories, while short and not necessarily needed to tell his life story, were of great interest to me as his great-great-grandson because I share many of the same attributes when it come to the natural world around me. Seeing a bit of myself in him brought me closer to the subject of my writing and helped me truly understand just who he was and why he did the things he did.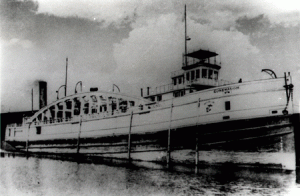 Point Pelee, a long sandspit reaching out into shallow Lake Erie, is also home to a number of shipwrecks, another of my interests. In November of 1906 the Anchor Line steamer Conemaugh was blown ashore on the point when it encountered a strong gale. Lifesavers were able to rescue the crew but the wind and waves took their toll on the ship breaking her apart resulting in a total loss. The wreck lies in about 20 feet of water on the west side of the point and is marked by a plaque on the shore.
If you ever get a chance to visit Point Pelee I highly recommend it. It is a beautiful location with plenty of history and plenty of opportunity to see some birds that you most likely will never see in your backyard.
"Sky Pilot of the Great Lakes" is Now Available through Amazon.com and Barnes & Noble.
John Kotzian was born in Rogers City, Michigan located on the shore of Lake Huron and raised some 30 miles away in Hillman, Michigan. He is the great-great-grandson of the "Sky Pilot of the Great Lakes", Rev. William H. Law.

His passion for the Great Lakes and its history grew from the stories handed down through both sides of his family about Rev. Law's travels and relatives lost in the sinking of the S.S. Carl D. Bradley.

He currently resides with his wife, Kimberly, in Brooklyn, MI.