Three generations of Law descendants meet up in Rogers City, Michigan. This past weekend my wife Kim and I were at the Rogers City Nautical Festival. Kim was selling her nature and landscape photography feature many of Michigan's Lighthouses and I was autographing copies of Sky Pilot of the Great Lakes. While it was great being back in the town where I was born one thing happened that was very special, I got to finally meet Chuck (Charles) and David Law. 
Chuck is a grandson of Rev. William H. Law, The Sky Pilot of the Great Lakes. His father was William's son Charles who was with Rev. Law on the trip to Bois Blanc Island in 1900 where the U.S. Lifesaving Service rendered assistance to them and in doing so changed the course of Rev. Law's mission work. It was this rescue where Rev. Law, after learning about the U.S.L.S.S. and how these men put their own lives on the for other for very little pay, decided to rededicated his life's work to serving these men and their families, the story of which is outlined in my book.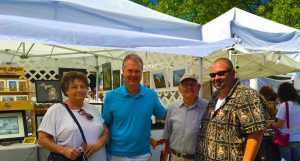 I had spoken with Chuck and his son David, many times on the phone and through email throughout the years while researching the book but we had never been able to actually meet in person. But this year, knowing I would be in Rogers City, they made the trip from Torch Lake in order to spend an hour or so with us. My mother Pam, whose grandmother was Rev. Law's youngest daughter Ruth, also came for the visit making for a gathering of three generations of Law descendants.
When you only know someone by a phone call or two you don't really get a full understanding of their personality and after this meeting I can tell you that meeting Chuck was a complete joy. He was quick, spry and immediately likable. I appreciate anyone who has a sense of humor and Chuck's was abundant. I am very glad we finally got the opportunity to connect in person and hope to do so again one day.
John Kotzian was born in Rogers City, Michigan located on the shore of Lake Huron and raised some 30 miles away in Hillman, Michigan. He is the great-great-grandson of the "Sky Pilot of the Great Lakes", Rev. William H. Law.

His passion for the Great Lakes and its history grew from the stories handed down through both sides of his family about Rev. Law's travels and relatives lost in the sinking of the S.S. Carl D. Bradley.

He currently resides with his wife, Kimberly, in Brooklyn, MI.