While researching Sky Pilot of the Great Lakes, one aspect was really special for me and that was finding and connecting with distant relatives.  I had started with the family members I knew my entire life, immediate family, aunts, uncles and various degrees of cousins. When the information flow about my subject, The Reverend William H. Law, started to dwindle from those sources I started searching for (and found) many other descendants from the Law family lines.
They all had a deep interest in the project and shared my desire to see the story told, and they all had bits and pieces of new information that helped put it all together. But what really amazed me was the ingrained love of the Great Lakes, something we all shared, something that only could have come from family. Especially since many of these "cousins" live far and away from the lakes themselves.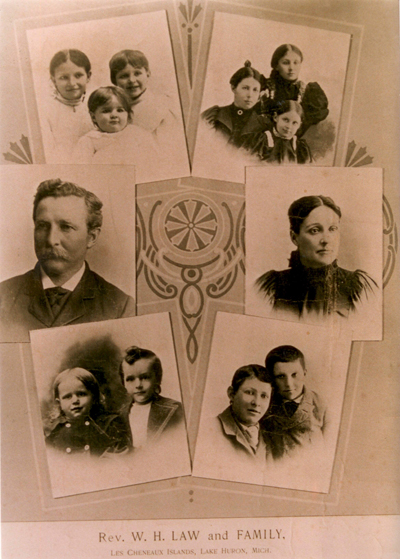 Through this project I met Marguerite. Her grandfather was one of William's brothers. She lives in Edmonton, Alberta and sent me a package of photos, letters and news articles on the Law family. I had just returned from a trip to the Bruce Peninsula in Ontario when the package arrived and found out that that William's parents had moved to Meaford, ON and are buried in the cemetery there. I was a bit saddened by this since I was a mere 30 miles from Meaford during my trip and could have made the trip had I known.
I also met Charles, grandson of William. H. Law. Charles lives in Grand Rapids, MI but summers in the Northern Lower Peninsula of Michigan near Lake Michigan. We had a long phone conversation sharing stories and information, most of which made it into the book.
Charles also put me in touch with his son David, who lives in Texas. David regularly travels back to Michigan to visit with his father. He was able to send me copies of letters written by William that I had never seen and that had shed some light and opened new avenues of research for the story.  One of the highlights of talking with David was when I told him the story of "Grandpa" Law's visits with and letters to John D. Rockefeller and his son. It turned out that in a previous job David had worked closely with Senator John Davison "Jay" Rockefeller IV. If this story was known at the time he could have shared this connection with Sen. Rockefeller.
I also connected with Richard and Chuck who both live in Arkansas. Richard, I found out is also an author and Chuck was able to send me a copy of an 8-page letter written by Mary Law about her husband, William and his works. This letter added so much to the story in so many ways. It contained missing pieces of information I was looking for and, most importantly, added more to Mary's story; something that I felt was greatly needed in order to fully tell the overall story.
I also had the pleasure of meeting Garth. Garth it turned out had very little knowledge of his ancestry and yet somehow managed to meld his love of the Great Lakes with his own career. Garth, it turned out, was a Captain on the Arnold Line, spending his day navigating the Straits of Mackinac, the very same waters often travelled by his Great-Great-Grandfather, William.
After the book was release I had the pleasure of being interviewed for an article in the St. Ignace News. Not long after the article ran I got a call from the News that a descendant of William had read the article and wanted to contact me. MargaretteAnn (who goes by the nickname Peggy) is a granddaughter of William and lives on the shores of Lake Huron in St. Ignace, MI.  She was so surprised and pleased to read the article about the book that she bought copies of the paper to send to all her children and grandchildren. We plan to meet when I travel to Hessel, MI to give a presentation on the story for the Les Cheneaux Historical Society.
For me, I have a new extended family scattered across the United States and Canada. I am happy that I was able to put this book together with their help and give them something they can share with their friends and family .
John Kotzian was born in Rogers City, Michigan located on the shore of Lake Huron and raised some 30 miles away in Hillman, Michigan. He is the great-great-grandson of the "Sky Pilot of the Great Lakes", Rev. William H. Law.

His passion for the Great Lakes and its history grew from the stories handed down through both sides of his family about Rev. Law's travels and relatives lost in the sinking of the S.S. Carl D. Bradley.

He currently resides with his wife, Kimberly, in Brooklyn, MI.