Rev. William Hainstock Law, the subject of my book "Sky Pilot of the Great Lakes", was my Great-Great-Grandfather (Mother's, Mother's, Mother's Father). I never knew him as he passed away many years before I was born. I did know his youngest daughter, Ruth (my Great-Grandmother), for a short time when I was very young and have a few memories of visiting her at her home in Traverse City, MI in the mid-1970s. Most of my knowledge of W. H. Law, prior to researching for the book, came from my Mother and Grandmother telling stories about how he was the first settler in Hessel/Cedarville area of Michigan and the fact that "He sailed around the Great Lakes visiting the lighthouses." That was about the extent of my knowledge of the man.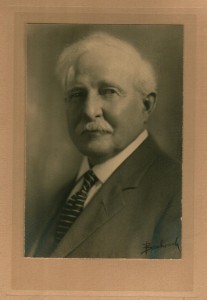 Our family used to visit with family in Hessel, Michigan in the summers. "Cousin" Jack Law at the time lived in the house "Grandpa" Law had built after a fire had destroyed his original "Bethel Home" in the early 1900s. Jack was married to Marion, how was a descendant on "Honest John" Hessel, for whom the town was named. I enjoyed my visits to Hessel and recall the fishing in the area to be very good, even if you didn't have a boat you could catch big fish just throwing a line off the various docks along the shore, something I did quite often.
The town of Hessel sits on the northern shore of Lake Huron and is surrounded by the Les Cheneaux Islands, a chain of islands carved out by glaciers that created natural channels between them. I recall taking a boat trip through the channels on some of our trips to the area, something I would dearly love to so again.
As I grew older I started wanting to learn more about my ancestry. In 2008 I started actively mapping the family tree for my own purposes, picking up where others before had left off and utilizing the new tools like Ancestry.com and Google. With these tools I was able to create quite an extensive tree on both sides of my family.
In 2010 I had a life-changing moment. I had been working at Borders Group Inc. headquarters in the IT department when after 12 years they finally got around to laying me off. I found myself without a job for the first time since leaving college and was not sure what I would do. The layoff came with a decent severance so I had some time to look for a job. I'll admit I was uncertain about the future and how I was going to make ends meet. I decided to reach out to some of the "big names" in my field of software testing for some advice on what my next steps should. Through these contacts I was introduced to a start-up company called uTest. uTest's business model was in the crowdsourcing of Software Testers and all I had to do was create an account, attend a conference call to get acquainted with the processes then get to work.
I still had my severance from Borders coming for a little over a month so this seemed like a good way to make some extra cash while I searched for a more permanent position with a company where I would be happy. However, after a few weeks I found that I was making a decent income through uTest and realizing that if I subtracted the amount of money I used to spend just to go to work I was doing pretty well. Sure at the time it was a pay cut from my Borders salary but not by much and there was potential for growth. So I decide to take the leap and see if I could make this my new job. Four years later I'm still going strong.
One side-effect of this new job was that I found I had a lot more free-time than I did working a corporate job and I found myself thinking back to the family tree and more specifically my Great-Great Grandfather, W. H. Law. I wanted to know more about him. Who exactly was he and what exactly did he do besides "Sail the Great Lakes visiting the lighthouses"?
Once again, I turned to the tools at hand, Google, Ancestry.com, various online newspaper databases, basically anything and anybody I could reach through an internet connection that could help me flesh out a picture of his life and work. What I found was an almost complete biography of the man and his works. Better yet, it was a story on a grand scale that spanned the entire United States and touched, and changed, the lives of many, many people.
One of the people I had contacted for information was Author and Historian Frederick Stonehouse. Fred was the author of one of the very first book I ever read "The Wreck of the Edmund Fitzgerald" and over the years I added many of his books about the Great Lakes to my personal collection. Fred had a few paragraphs about W.H. Law in one of his books about the United States Life Saving Service, however even he admitted he didn't know much about the man. Fred encouraged me to take the information I had learned and put it into a book.
With his guidance, advice and introductions to others in the field that could help guide me through the process of writing a book and navigating the traditional publishing business, that book has become a reality. "Sky Pilot of the Great Lakes: A Biography of the Reverend William H. Law" is now just weeks away from release through Avery Color Studios and marks a new journey for me personally. I am looking forward to it.
With this blog I intend to give more information on the book, myself and W. H. Law, as well as touch on the many great aspects of the Great Lakes region and its history.
John Kotzian was born in Rogers City, Michigan located on the shore of Lake Huron and raised some 30 miles away in Hillman, Michigan. He is the great-great-grandson of the "Sky Pilot of the Great Lakes", Rev. William H. Law.

His passion for the Great Lakes and its history grew from the stories handed down through both sides of his family about Rev. Law's travels and relatives lost in the sinking of the S.S. Carl D. Bradley.

He currently resides with his wife, Kimberly, in Brooklyn, MI.