We started our trip by travelling to Hillman, Michigan, my hometown. My wife Kim and I arrived just in time to catch the end of Russ Franzen's set at the Music at the Mill event the Brush Creek Mill puts on every month.  Russ is a singer/songwriter who performs all over the Great Lakes singing original songs about the history of Lake Boats, Lighthouses, Shipwrecks, and life along the Great Lakes. If you haven't heard him perform you really should as he is not only a great songwriter, but a wonderful singing historian.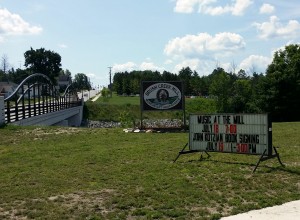 The next day was the scheduled signing event for Sky Pilot of the Great Lakes at the Brush Creek Mill. There were more people attending than I had expected with some coming in from Alpena just for this event. Portions of the proceeds of book sales went to the Brush Creek Mill fund and I think they were very pleased with the number of books sold. I know I was.
Besides myself, there were 7 other descendants of the Sky Pilot of the Great Lakes in attendance. My mother Pam, My niece Meridien, My nephews Hunter & Fisher and my mother's cousins Barry, Jim and Bill Simescu.
The following day Kim and I travelled back to St. Ignace, continuing our trip that will end in Eagle harbor, MI on July 26th for the Keweenaw Historical Society's open house at the Eagle harbor Life-Saving station museum. We visited with other descendants of Rev. Law, Margarateann  "Peggy" (Law) Coveyou and her children Mary Kay and Tom.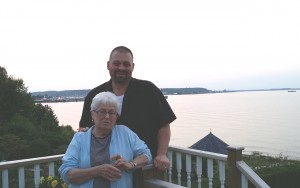 Our hotel in St. Ignace has a great view of Mackinac and Round Islands. It will also serve as a "home base" for our day trip to Whitefish Point and Crisp Point. With any luck I will be able to hold a book that was given by the Sky Pilot of the Great Lakes to Whitefish Point in 1915 and carries an inscription by the reverend (a photo of the inscription can be seen in the book).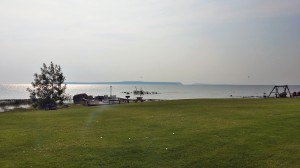 After today's travels we will be heading to the Keweenaw, stopping at a few book stores and gift shops along the way, a few of which have already asked me to come in an autograph the books they have in stock.
This has already been a wonderful trip.
John Kotzian was born in Rogers City, Michigan located on the shore of Lake Huron and raised some 30 miles away in Hillman, Michigan. He is the great-great-grandson of the "Sky Pilot of the Great Lakes", Rev. William H. Law.

His passion for the Great Lakes and its history grew from the stories handed down through both sides of his family about Rev. Law's travels and relatives lost in the sinking of the S.S. Carl D. Bradley.

He currently resides with his wife, Kimberly, in Brooklyn, MI.